During National Apprenticeship Week 2023, we're putting a spotlight on the experiences of our apprentices at the PPF, to celebrate their achievements and provide you with first-hand insight into what it's like to be an apprentice with us. 
Andy discusses his experience of becoming an apprentice after being made redundant at 56, job hunting as someone with a disability and why he would recommend an apprenticeship.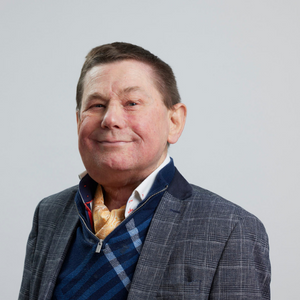 By Andy Cox, PPF Apprentice

Redundancy to apprenticeship 
I've read several news stories recently that people over 50 are less likely to want to go back to work, after experiencing and enjoying more free time after furlough or redundancy. The government is concerned that people will not have enough saved for longer retirements, as well as concerns for employers struggling to recruit skilled workers.  Alongside this, there has been a focus on people with disabilities who may find it even harder to return to work.
I was made redundant at the age of 56 after many years in the same job. I also have a disability, which prevents me applying for many jobs. Although I had the initial comfort of my redundancy payment, I was aware it was only temporary, and after 6 months of job hunting, my positive outlook started to fade.   
Applying for apprenticeships 
I was willing to turn my hand to anything, so long as it didn't involve a prerequisite for verbal communication (a surprisingly large percentage of jobs), as I no longer have a voice box after surgery to treat stage 4 cancer of the throat.
However, job hunting was not the same as how I remembered it - see an ad, phone up and get an interview date, have a quick interview and start work. Now there are internet-based questions and multiple assessments which is well out of my comfort zone! 
Fortunately, I stumbled across Scope, a disability equality charity that specialises in getting people like me back into work. I had an incredible personal mentor who mentioned that I should consider apprenticeships as well as traditional jobs. At first, I didn't like the idea of apprenticeships. I thought they're only for young people, the pay is very low, they last several years, and they're only in manufacturing and construction. 
My mentor proved me wrong when she pointed out an opportunity which paid a reasonable income. I was persuaded and ticked the apprenticeship box in the many employment search websites I had registered with. 
Soon afterwards, my mentor pointed me to a position at the PPF that might be of interest highlighting that they were also a Disability Confident Employer actively seeking to employ suitable people with disabilities. I applied and I've now been at the PPF for 8 months!  
My experience as a PPF apprentice
Employers like the PPF are supportive and inclusive and give employees, whether they have a disability or not, a chance to make a difference and contribute. Everyone has gone above and beyond to make me feel welcome and to accommodate any reasonable adjustments I might need.
My team supports me to perform in my job, but also my learning. I go to college each Wednesday and then work in the pension administration team every other day of the week. The skills I'm learning on my apprenticeship are really useful.
My advice for people interested in apprenticeships 
For school leavers: If you're thinking about further education and already have an idea of a career path you might like to take, I'd encourage you to consider whether an apprenticeship might be more suitable. In three years, you will probably have no or very little debt, have a qualification in a relevant field and be in receipt of a full salary. 
For mature people: There are employers looking for people just like you. Put yourself out there and something will come along eventually. Do not dismiss apprenticeships out of hand, they're not what you may have imagined them to be and there are many open to all age groups.  Although the salaries are often a bit lower than you may have been used to, they are not at as low as you may think, and you also get a new qualification.
For those of any age who may have a disability: You're probably aware of legislation that means employers by law must make reasonable adjustments for you during interviews and at work. If you're not familiar with it, there are many easy-to-understand guides on the web. I would look up Scope and drop them a line to see how they can help and if nothing else, it is nice to feel that someone is "in it with you".  Also, keep an eye out for potential employers who have signed up to the Disability Confident scheme. 
Finally, if you find yourself out of work, remember to tick the box marked apprenticeships. You may be pleasantly surprised to find out what suitable opportunities are out there.
Additional Information:
Scope: https://www.scope.org.uk/ 
Disability confident scheme run by HM Government: Disability Confident is a government scheme designed to encourage employers to recruit and retain disabled people and those with health conditions. It has replaced the previous Two Ticks Positive About Disabled People scheme. It is voluntary and has been developed by employers and disabled people's representatives. 
In October 2020 the PPF became a Disability Confident Leader. This is a step up from Disability Confident Employer, which we had previously attained, and the highest level of accreditation.