So, while you're here, why not check out our latest job vacancies? If you don't see what you're looking for, you can still send us your CV by submitting a speculative application using the links below.
Job vacancies
Speculative application
Equality, diversity and inclusion
We're a disability confident leader. This means that if you meet the essential criteria listed in the person specification section of the job description for the role you are applying for, you'll be guaranteed an interview.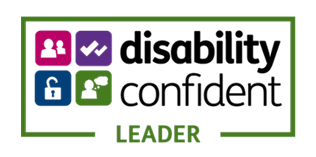 We were recognised as Highly Commended for Best Candidate Experience at the RIDI Awards 2020 and were shortlisted for Recruitment Team of the Year.
The RIDI awards celebrate the latest pioneering employers and recruiters who are breaking down barriers to help people with disabilities into employment.
The application process
When completing an application you'll have the chance to upload your CV, a personal statement or answer questions associated with the position.
There'll also be an opportunity to complete basic details about yourself, as well as completing a diversity form. Completion of this diversity form enables us to measure our progress against our targets to improve diversity and equality at all levels throughout the organisation.
Take a look at this video that answers the key questions on why we encourage candidates to share their diversity data.
How we check your CV
When considering your CV we'll be assessing all areas relevant to the position. Each application will be scored against the essential criteria in the person specification section of the job description. This means your application is only assessed against this criteria and not against preferences you aren't aware of.
On occasion, for some roles you'll have an opportunity to upload a supporting statement or answer questions related to the vacancy.
How we check your references
We use a third-party referencing provider and ask them to complete a full referencing process on our behalf. They will also document validation checks, financial credit and criminal record (DBS) checks.
We can't sponsor applicants to work for us so we require applicants to be prepared to prove they can work in the UK. If you have any questions or concerns about these checks, please get in touch, in complete confidence, by contacting our Recruitment Team.
What to expect from our interview process
Our interviews are always a two-way process. It's not only for us to decide if you're the right person for the role but also for you to decide if it's the right job for you.
If you're offered an interview, you'll be expected to answer a selection of technical and competency questions. It's also your chance to ask us any questions you have about the role you're applying for and what it's like to work for us.
Depending on the role you're applying for, you may be asked to take part in some additional online testing, role plays or presentations. Don't worry, you'll get plenty of help and support throughout the process, so it won't be as daunting as it sounds.
Download this guide to our interview process to find out more about how to prepare for the interview and what to expect.
Protecting your privacy
Our recruitment partners, Networx, help us to provide a helpful and secure portal for candidates to use. You can be confident they'll only release your details to us and never to any third party without your consent.
If you have any concerns about sending your details, please get in touch with us. Further information about our privacy policy will be shared with you when you apply.
Please note: We only accept applications directly from candidates – we never accept unsolicited CVs from recruitment agencies.
View our current vacancies to find your next opportunity.